Cupcake Wedding Cake - Add Some Flare to Your Special Day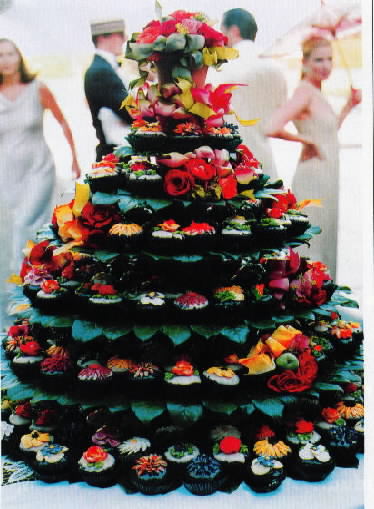 Cupcake wedding cakes are becoming a popular staple on the wedding scene. They are a sweet, elegant and perhaps even a do it yourself alternative to the traditional, more formal wedding cake. Cupcake wedding cakes are easy enough to make yourself or at least have a friend do it for you. There are endless possibilities as to how these sweet treats can be prepared, decorated and displayed. You're only limited by your imagination.
I will share with you the steps to making a cupcake wedding cake that will certainly be one to remember.
The cups. To get the best effect possible give this bit of detail some thought. Are you going for formal, out of the ordinary or whimsical? Do you want paper or foil? Or for something really different and very glamorous how about chocolate cups? There are so many styles and colors of cupcake cups to choose from.
Flavor. When it comes to the basic flavor of the cupcakes you have to get it right. There's your basic chocolate, vanilla or a combination of the two, marble. You can also incorporate gourmet flavors such as Irish cream, amaretto, rum raisin or lemon and poppy seed. The flavor should be subtle and not over powering or too sweet.
Icing. There are so many ways you can ice a cupcake, from the type of frosting to the way in which it's applied. A layer of plain butter cream icing is usually used as a crumb coat. This is the first thin layer of icing that if it happens to get a few crumbs from the cake itself it's no big deal since it will be covered with another and final layer of icing. The flavor of the icing should definitely compliment the basic flavor of the cupcakes themselves. A final topping of butter cream, flat icing, a ganache or the ever elegant fondant is well... the icing on the cake. There are also non-icing alternatives such as jam, fresh fruit or jell-o.
Design. Once you've decided on the type of icing you would like there are a number of ways that it can be applied.

Butter icing applied with an off-set spatula gives you a lot of control over the finished look of the topping. You can also consider piping it on in a smooth or textured continuous bead.
Fondant is becoming a popular choice for topping cakes and cupcakes alike. It's elegant and smooth finish will have people wondering just how much you spent on your cake! It's a bit tricky to work with but with the right tools the whole process is a lot easier and you're sure to get your desired results.
Ganache is a really simple topping but looks like a million bucks. It's basically chocolate melted in hot cream with a small amount poured over each cupcake. Ganache provides a simple and elegant finish to any cupcake wedding cake.

Display. Again, this is limited to your imagination. There are tones of cupcake stands you can choose from to display your cupcake wedding cakes. From round displays four tiers high to single pedestal cupcake stands, cupcake wedding cakes can still be the awe inspiring centerpiece of your wedding reception.
Finishing touches. Once the cupcakes are displayed as you want them dress up the display with silk flowers, leaves, branches, ribbon or other sweet treats.
Choosing a cupcake wedding cake as the focal point for your reception can be a lot less expensive than traditional wedding cakes yet, if done correctly, can still look just as elegant.